Digital infrastructure
built for the future
Ubiquity invests in, develops and manages digital communications infrastructure throughout the United States. Ubiquity partners with ISPs, wireless carriers, utilities, and municipalities to deliver connectivity and sustainability solutions in underserved communities. Ubiquity's mission focuses on providing customer choice and spurring competition, both essential components of empowering communities for the future.
Ubiquity and the Generate Partnership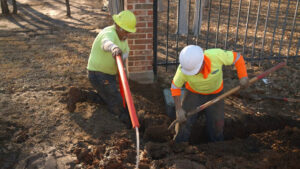 Since we launched Ubiquity in 2019, our driving mission has been to invest in communications infrastructure that can empower customers, communities and the citizens they both serve. This partnership with Generate, a firm whose leadership shares our vision and values, will accelerate our pursuit of that mission while also expanding our overall value proposition to key stakeholders. The Ubiquity/Generate business model will exist at the intersection of digital and sustainability, where smart cities, industrialized 5G solutions and edge computing innovation all reside, and where Ubiquity will be uniquely positioned to compete.
Generate's commitment to Ubiquity will allow its operationally focused management team to accelerate an already significant capital investment pipeline in California and Texas which today already represents $1 billion of potential investment in 2022 and beyond. The open-access fiber network is designed to accommodate all current and future fiber uses, including long-term contracts with broadband providers, mobile carriers, government entities, utilities, edge computing, and any other industry where ubiquitous wired and wireless connectivity is or will be critical to success.
Digital Infrastructure. Creating Value in the Digital Age.
Our Strategy
Ubiquity seeks to build a diversified portfolio of digital infrastructure assets across the United States
our combined experience developing, constructing, and managing digital infrastructure assets across the United States and internationally.
Equity and debt capital raised and deployed for both public and private enterprises across the digital infrastructure and services industries.